Iberico ham (shoulder) acorn-fed superior quality Don Agustín + ham holder + knife
195.53 €
(VAT included)

This superior quality whole Ibérico shoulder ham from Don Agustín is a product of the hindquarters of the Ibérico pig, and is characterized by its stylized form, the black hoof and the marbling infiltrating the tissues and contributing to its stunning flavor. The color is red, with pinkish hues. In the mouth, it's flavor is intense and prolonged, and unlike anything else on earth. t's a limited production item, and is selected from the finest Ibérico pigs which feed on acorns in wild pastures. Combined with an extremely long and careful cure, this produces a gastronomic jewel - a true treasure of Ibérico hams, and of Spanish gourmet cuisine. In Spanish, this product is called, "Paleta ibérica de bellota Don Agustín Calidad Superior entera."
BRAND
DETAILS
TIPS
REVIEWS (3)
SHIPPING
RETURN POLICY
DON AGUSTÍN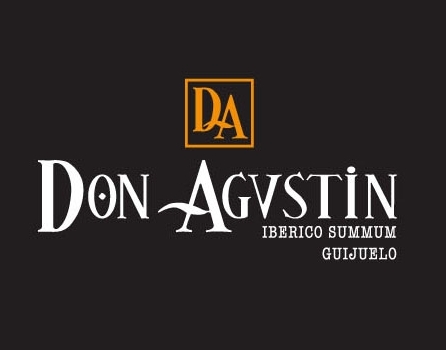 Don Agustín, Guijuelo's acme of Ibérico, is a limited production line offering premium products from the finest selection of acorn-fed Ibérico animals. Only those which meet Don Agustín's standards of excellence are chosen. Don Agustín products receive an extremely slow and careful cure, so you know you'll be getting a true taste of tradition - a gastronomic jewel and the pinnacle of Ibérico cuisine.
DON AGUSTÍN
| | |
| --- | --- |
| Presentation : | Whole |
| Category : | Shoulder |
| Breed : | Iberian |
| Food / Category : | Acorn-fed |
| Elaboration : | "Acorn-fed" refers to animals that have lived during the pre-slaughter, or "finishing" period, free range in meadows and mountain pastures. These animals have fed only on the foods naturally available to them in wild pasture: acorns, grass and herbs, and roots. This ensures that the meat is of the highest quality, richly flavoured with acorns. |
| Origin : | Castilla y León |
| Curation time : | 37 months |
| Format : | Your shoulder ham will come in a presentation box, in a stylish black bag and with a red cotton interior wrapping. |
DON AGUSTÍN
| | |
| --- | --- |
| Storage : | You should store this shoulder ham in a cool, dry place. |
| Consumption : | Consume this Ibérico shoulder ham within a year of purchase to enjoy at its best. |
| Cutting guide: | |

Rating:





5
5

Rating:





5
5

Rating:





5
5
---
You are reviewing Iberico ham (shoulder) acorn-fed superior quality Don Agustín + ham holder + knife

Country:
Province:
Postal Code:
Estimated shipping cost:
€
. Delivery time working days.
Shipping to is free on orders over
€*

You will see your exact shipping fees at checkout, after you enter the country and region where the items will be shipped.
---
We ship to all countries in the European Union and Monaco. We do not ship to Switzerland or the Canary Islands. Click here to view all the shipping fees and delivery times.


Free shipping *
| | |
| --- | --- |
| Orders over 200 €: | Gibraltar, Portugal, Spain, Spain Balearic and France South. |
| Orders over 250 €: | Andorra, Austria, Belgium, France, Germany, Italy, Luxembourg, Netherlands and United Kingdom. |
| Orders over 350 €: | Bulgaria, Croatia, Czech Republic, Denmark, Estonia, Finland, Greece, Hungary, Ireland, Latvia, Lithuania, Malta, Monaco, Poland, Romania, Slovakia, Slovenia and Sweden. |
* As long as all the products of the order are from the same brand.