Sliced serrano chorizo Mayoral
2.35 €
(VAT included)

This sliced chorizo from Mayoral is taken from cular chorizo, distinguished by using a thicker part of the pig's intestine as the casing, which affects flavor and curing. The chorizo filling is made from minced pork and a distinctive mixture of spices, including paprika, which also gives this chorizo its characteristic red color. The paprika and garlic elements of the flavor make this chorizo unlike any other. In Spanish, this product is known as, "chorizo Mayoral loncheado."
BRAND
DETAILS
TIPS
REVIEWS
SHIPPING
RETURN POLICY
MAYORAL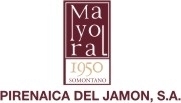 Mayoral began making sausages in the 1950s, and three generations later, the Mayoral family carries on the tradition of making some of Spain's finest pork products. They've kept the old recipes and the family secrets of how their products are cured, meaning that when you buy Mayoral, you're buying an utterly authentic regional taste of Spain, produced by master craftsmen from carefully selected Aragon pork. Tradition is complemented by modern technology to ensure strict quality control.
MAYORAL
| | |
| --- | --- |
| Presentation : | Sliced |
| Category : | Chorizo |
| Breed : | Serrano |
| Origin : | Aragón |
| Curation time : | 2 months |
| Format : | This product will be delivered in vacuum packaging for freshness, protected by an outer carton. |
MAYORAL
| | |
| --- | --- |
| Storage : | This product should be stored in its vacuum packaging in the refrigerator at between 0°C and 5°C. It should be consumed at room temperature, between 20°C and 25°C. |
| Consumption : | We recommend eating this product within six months of purchase. Once opened, it should be eaten within six weeks. |
| Cutting guide: | |
This product has no reviews
---
You are reviewing Sliced serrano chorizo Mayoral

Country:
Province:
Postal Code:
Estimated shipping cost:
€
. Delivery time working days.
Shipping to is free on orders over
€*

You will see your exact shipping fees at checkout, after you enter the country and region where the items will be shipped.
---
We ship to all countries in the European Union and Monaco. We do not ship to Switzerland or the Canary Islands. Click here to view all the shipping fees and delivery times.


Free shipping *
| | |
| --- | --- |
| Orders over 200 €: | Gibraltar, Portugal, Spain, Spain Balearic and France South. |
| Orders over 250 €: | Andorra, Austria, Belgium, France, Germany, Italy, Luxembourg, Netherlands and United Kingdom. |
| Orders over 350 €: | Bulgaria, Croatia, Czech Republic, Denmark, Estonia, Finland, Greece, Hungary, Ireland, Latvia, Lithuania, Malta, Monaco, Poland, Romania, Slovakia, Slovenia and Sweden. |
* As long as all the products of the order are from the same brand.