Iberico ham (shoulder) grass-fed ham Altadehesa
104.16 €
(VAT included)

The Iberico grass-fed shoulder ham by Altadehesa is a single piece obtained from the forelimbs of the Iberian pig, characterised by its streamline shape, the fineness of its shaft, with a black hoof, soft shiny fat and smooth texture. It has an exquisite, delicate flavour with an especially prolonged aroma on the palate. The shoulder ham comes from Iberian pigs raised in a semi-extensive regime that feed on aromatic grasses, legumes and natural grains that are high in sodium, fibre and protein. Small white-coloured "specks" or "crystals" can be seen when cut, which are a sign of a slow curing process and low salinity.
BRAND
DETAILS
TIPS
REVIEWS (1)
SHIPPING
RETURN POLICY
ALTADEHESA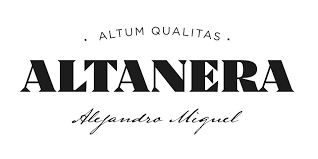 La calidad por principio. Esta es la filosofía que mueve a Altanera desde sus inicios. Criar en la libertad los mejores ejemplares de cerdos, elaborar siguiendo exclusivamente los métodos tradicionales, mantener los tiempos de curación para ofrecer al mercado auténticas delicias que sean referencias en el mercado del ibérico. Los productos Altanera son curados siguiendo la más rigurosas normas. Así, podemos garantizar que todos los productos cumplen con todos los requisitos necesarios para satisfacer las expectativas de los gourmets más exigentes.
ALTADEHESA
| | |
| --- | --- |
| Presentation : | Whole |
| Category : | Shoulder |
| Breed : | Iberian |
| Food / Category : | Grass-fed |
| Elaboration : | "Grass-fed" refers to animals that have been fattened, or finished, on a combination of natural outdoor and farm feeds. A diet of grass is supplemented by legumes and cereals to make up the calories. |
| Origin : | Extremadura |
| Curation time : | 20 months |
| Format : | The Iberico grass-fed shoulder ham comes in a cardboard box. |
ALTADEHESA
| | |
| --- | --- |
| Storage : | The Iberico grass-fed shoulder ham should be kept in a cool, dry place away from sunlight. |
| Consumption : | This product is best consumed within one year of purchase. Once opened, it is best to consume the shoulder ham within one month in order to fully enjoy its exquisite flavour. |
| Cutting guide: | |

Rating:





5
5
---
You are reviewing Iberico ham (shoulder) grass-fed ham Altadehesa

Country:
Province:
Postal Code:
Estimated shipping cost:
€
. Delivery time working days.
Shipping to is free on orders over
€*

You will see your exact shipping fees at checkout, after you enter the country and region where the items will be shipped.
---
We ship to all countries in the European Union and Monaco. We do not ship to Switzerland or the Canary Islands. Click here to view all the shipping fees and delivery times.


Free shipping *
| | |
| --- | --- |
| Orders over 200 €: | Gibraltar, Portugal, Spain, Spain Balearic and France South. |
| Orders over 250 €: | Andorra, Austria, Belgium, France, Germany, Italy, Luxembourg, Netherlands and United Kingdom. |
| Orders over 350 €: | Bulgaria, Croatia, Czech Republic, Denmark, Estonia, Finland, Greece, Hungary, Ireland, Latvia, Lithuania, Malta, Monaco, Poland, Romania, Slovakia, Slovenia and Sweden. |
* As long as all the products of the order are from the same brand.