Whole 100% iberico ham acorn-fed Cinco Jotas - 5J
723.74 €
(VAT included)

This product is made from the hind limb of pigs pastured freely in the lands to the southwest of the iberico peninsula, and feeding by foraging for the acorns found among the trees there. Cinco Jotas - 5J has remained true to its origins, offering hams produced from 100% iberico pigs with pure bloodlines, and preserving the environment where the pigs live at the same time. It's not unusual for a foraging pig to travel 14km daily in search for food, and the result is a richly flavoured and textured meat, unique among hams. In Spanish, this product is known as "Jamón 100% Ibérico de bellota Cinco Jotas - 5J entero".
BRAND
DETAILS
TIPS
REVIEWS (4)
SHIPPING
RETURN POLICY
CINCO JOTAS - 5J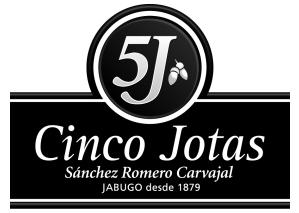 Cinco Jotas (5J), reconocido internacionalmente como la joya de la gastronomía española. Desde hace más de 130 años, 5J mantiene la elaboración artesanal y natural de todos sus productos, conservando las experiencias y tradiciones transmitidas de generación en generación.
CINCO JOTAS - 5J
| | |
| --- | --- |
| Presentation : | Whole |
| Category : | Ham |
| Breed : | Iberian |
| Origin : | Andalucía |
| Curation time : | 36 months |
| Format : | This product is shipped in a protective outer sheath and brown paper wrapping. |
CINCO JOTAS - 5J
| | |
| --- | --- |
| Storage : | Your 100% iberico ham should be kept cool and in a well-ventilated place. When you receive it you should remove it from the brown paper wrapping and sheath. When you're ready to cut your ham, you'll need a wide-bladed knife for cleaning the outside of the piece and a flexible, very sharp ham knife for cutting slices, as well as a sharpening stone or steel. It's important not to leave the meat exposed for long periods of time, or it will oxidise and the flavour will be lost. The traditional way to cover it its with ham fat from the piece itself. |
| Consumption : | You should consume your ham within 2 years of purchase. Once you've opened it, we recommend you eat it within a month to preserve the flavour and quality of the meat. |
| Cutting guide: | |

Rating:





4
5

Rating:





5
5

Rating:





5
5

Rating:





5
5
---
You are reviewing Whole 100% iberico ham acorn-fed Cinco Jotas - 5J

Country:
Province:
Postal Code:
Estimated shipping cost:
€
. Delivery time working days.
Shipping to is free on orders over
€*

You will see your exact shipping fees at checkout, after you enter the country and region where the items will be shipped.
---
We ship to all countries in the European Union and Monaco. We do not ship to Switzerland or the Canary Islands. Click here to view all the shipping fees and delivery times.


Free shipping *
| | |
| --- | --- |
| Orders over 200 €: | Gibraltar, Portugal, Spain, Spain Balearic and France South. |
| Orders over 250 €: | Andorra, Austria, Belgium, France, Germany, Italy, Luxembourg, Netherlands and United Kingdom. |
| Orders over 350 €: | Bulgaria, Croatia, Czech Republic, Denmark, Estonia, Finland, Greece, Hungary, Ireland, Latvia, Lithuania, Malta, Monaco, Poland, Romania, Slovakia, Slovenia and Sweden. |
* As long as all the products of the order are from the same brand.