Ibérico ham (shoulder) 100% acorn-fed Sánchez Romero Carvajal
267.51 €
(VAT included)

The 100% acorn-fed whole Ibérico shoulder ham by Sánchez Romero Carvajal is a product made from the hind limbs of 100% Ibérico pigs in Jabugo. The pig is raised free-range in the oak forests of the Iberian Peninsula and is fed acorns during the "montanera" period in which the pigs are allowed to roam freely.
BRAND
DETAILS
TIPS
REVIEWS
SHIPPING
RETURN POLICY
SÁNCHEZ ROMERO CARVAJAL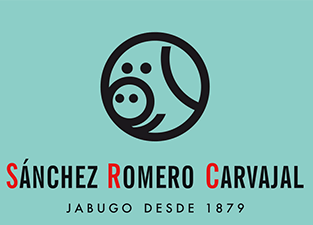 Sánchez Romero Carvajal es es una marca con más de 130 años de experiencia en la crianza de cerdos 100% ibéricos y elaboración artesanal de jamones. Sus cerdos ibéricos, que han sido criados con los mas altos estándares de calidad, asegurando que son 100% pura raza, viven en libertad en dehesas centenarias de encinas, quejigos y alcornoques.
SÁNCHEZ ROMERO CARVAJAL
| | |
| --- | --- |
| Presentation : | Whole |
| Category : | Shoulder |
| Breed : | Iberian |
| Food / Category : | Acorn-fed |
| Elaboration : | "Acorn-fed" refers to animals that have lived during the pre-slaughter, or "finishing" period, free range in meadows and mountain pastures. These animals have fed only on the foods naturally available to them in wild pasture: acorns, grass and herbs, and roots. This ensures that the meat is of the highest quality, richly flavoured with acorns. |
| Origin : | Castilla y León |
| Curation time : | 24 months |
| Format : | The 100% acorn-fed whole Ibérico shoulder ham by Sáncehz Romero Carvajal comes with a cover. |
SÁNCHEZ ROMERO CARVAJAL
| | |
| --- | --- |
| Storage : | The 100% acorn-fed Ibérico shoulder ham must be kept in a cool and ventilated place until it is consumed. Once you have received it, remove the protective cover and kraft paper. It is essential to have the proper equipment when cutting it. We will need the following tools in order to get the most out of every slice of ham: a ham stand, a wide blade knife to clean the inner and outer side of the slice, a long flexible ham knife and a sharpener. It is very important to make sure that the part we've cut is clean and adequately protected in order to prevent oxidation. To do so, we recommend covering the exposed area with thin slices of fat from the ham itself. |
| Consumption : | Best consumed within 1 year of purchase. Once open, it should be consumed within one month in order to fully enjoy all of its exquisite qualities. |
| Cutting guide: | |
This product has no reviews
---
You are reviewing Ibérico ham (shoulder) 100% acorn-fed Sánchez Romero Carvajal

Country:
Province:
Postal Code:
Estimated shipping cost:
€
. Delivery time working days.
Shipping to is free on orders over
€*

You will see your exact shipping fees at checkout, after you enter the country and region where the items will be shipped.
---
We ship to all countries in the European Union and Monaco. We do not ship to Switzerland or the Canary Islands. Click here to view all the shipping fees and delivery times.


Free shipping *
| | |
| --- | --- |
| Orders over 200 €: | Gibraltar, Portugal, Spain, Spain Balearic and France South. |
| Orders over 250 €: | Andorra, Austria, Belgium, France, Germany, Italy, Luxembourg, Netherlands and United Kingdom. |
| Orders over 350 €: | Bulgaria, Croatia, Czech Republic, Denmark, Estonia, Finland, Greece, Hungary, Ireland, Latvia, Lithuania, Malta, Monaco, Poland, Romania, Slovakia, Slovenia and Sweden. |
* As long as all the products of the order are from the same brand.