Half acorn-fed 100% iberico loin Cinco Jotas - 5J
52.63 €
(VAT included)

This 100% iberico loin is one of Spain's great food treasures. Obtained from 100% pure iberico pigs fed exclusively on acorns, it is composed of prime cuts without any tendons, gristle, fascia or fat. After being salted, it's stuffed into Roscal natural gut casings and the process of maturation gives it its distinctive appearance, with tiny wrinkles and crevasses in the surface of the casing but no discolouration. Pure iberico loin has a delicate flavour reminiscent of smoke and paprika. In Spanish, this product is known as "Lomo 100% ibérico de bellota Cinco Jotas - 5J media pieza".
BRAND
DETAILS
TIPS
REVIEWS (1)
SHIPPING
RETURN POLICY
CINCO JOTAS - 5J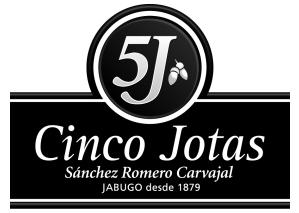 Cinco Jotas (5J), reconocido internacionalmente como la joya de la gastronomía española. Desde hace más de 130 años, 5J mantiene la elaboración artesanal y natural de todos sus productos, conservando las experiencias y tradiciones transmitidas de generación en generación.
CINCO JOTAS - 5J
| | |
| --- | --- |
| Presentation : | Whole |
| Category : | Loin |
| Breed : | Iberian |
| Curation time : | 20 months |
| Format : | This iberico loin is presented to you vacuum-packed for freshness inside a protective plastic package. |
CINCO JOTAS - 5J
| | |
| --- | --- |
| Storage : | Your 100% iberico loin should be stored in a cool dry place, away from direct sunlight and heat sources, and should be removed from its plastic packaging on receipt. It's safe to store this product at room temperature so long as it's kept out of direct sunlight and away from heat sources. |
| Consumption : | We recommend that you consume this product within 6 months of purchase. |
| Cutting guide: | |

Rating:





5
5
---
You are reviewing Half acorn-fed 100% iberico loin Cinco Jotas - 5J

Country:
Province:
Postal Code:
Estimated shipping cost:
€
. Delivery time working days.
Shipping to is free on orders over
€*

You will see your exact shipping fees at checkout, after you enter the country and region where the items will be shipped.
---
We ship to all countries in the European Union and Monaco. We do not ship to Switzerland or the Canary Islands. Click here to view all the shipping fees and delivery times.


Free shipping *
| | |
| --- | --- |
| Orders over 200 €: | Gibraltar, Portugal, Spain, Spain Balearic and France South. |
| Orders over 250 €: | Andorra, Austria, Belgium, France, Germany, Italy, Luxembourg, Netherlands and United Kingdom. |
| Orders over 350 €: | Bulgaria, Croatia, Czech Republic, Denmark, Estonia, Finland, Greece, Hungary, Ireland, Latvia, Lithuania, Malta, Monaco, Poland, Romania, Slovakia, Slovenia and Sweden. |
* As long as all the products of the order are from the same brand.